Espresso Martini à la Make it Max
.
A luxurious mix between coffee and
a cocktail.
"Make something that will wake me up and then f**k me up" – a supermodel to Dick Bradsell, the inventor of the Espresso Martini.
Well, that's how the story goes at least, which supposedly took place in 1983 in a bar in London. This delicious Espresso Martini definitely wakes you up and promises a good time when enjoyed with the right company!

When to enjoy & pair with
The luxurious Espresso Martini with freshly brewed coffee is absolutely perfect to enjoy with good company after dinner. Or before even, why not! It will definitely wake you up a little, so you can spend a few more hours having wonderful conversations with long-time friends and family, or impressing that special someone.
Recipe breakdown (1 person)
Ice cubes
1 Freshly brewed espresso
1 oz / 30 ml Coffee liqueur (for example Kahlua or Tia Maria)
1 oz / 30 ml Vodka
(Optional) 0.20 oz / 5 ml Agave syrup

For garnish
(Optional) 3 Coffee beans
Cocktail preparation
Brew one cup of espresso, you can use it warm
Fill a shaker with ice cubes (and, if you like, agave syrup)
Add 1oz / 30ml of the espresso to the shaker
Add the coffee liqueur and vodka now as well
Shake well for at least 10-15 seconds (if you shake it more powerful, you will get a nice frothy top)
Pour in a glass but leave the ice cubes in the shaker
Place the coffee beans on top to garnish
Enjoy your espresso martini cocktail!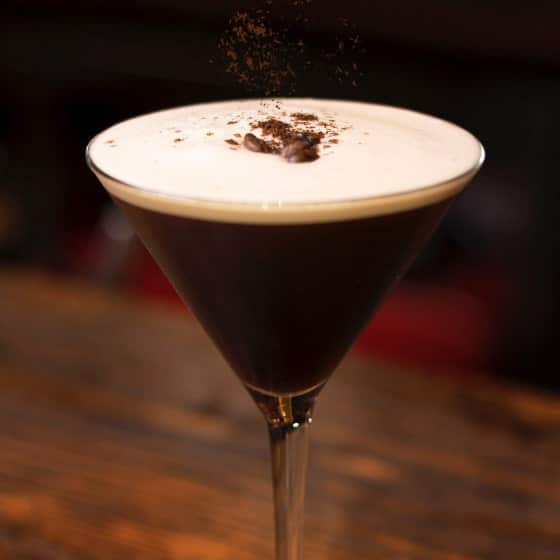 Let's stay in touch
For more delicious cocktail recipes and other cool stuff.