Boozy Christmas Coffee with Whipped Cream
.
The perfect cocktail recipe to get into the holiday spirit.
This year, skip the Irish Coffee because nothing brings out the holiday spirit like the Boozy Christmas Coffee with Whipped Cream. It's warming, it's festive, it's caffeinated, and it's super easy to make. So gather your vodka, baileys, and Kahlua and whip up this gorgeous drink. Christmas miracle? We think so.

When to enjoy & pair with
This Boozy Christmas Coffee is especially delicious after a cold winter walk or as a dessert cocktail after Christmas dinner. But really, there are no rules when it comes to Christmas and boozy coffee. Because it's perfect on Christmas morning, too! And it will definitely get you through the holidays when you're expecting family or friends to invade your home. You'll thank us later.
Recipe breakdown (per serving)
30 ml espresso, freshly brewed (or strong coffee)
45 ml Baileys Irish Cream
30 ml vodka
30 ml Kahlua
30 ml milk (or a dairy-free option)
A few ice cubes
Whipped cream
For garnish
(Optional) Any topping of choice: festive sprinkles, cacao powder, caramel and/or chocolate sauce.
Cocktail preparation
Add ice cubes to a glass or a coffee mug.
Pour the espresso, Baileys, vodka, Kahlua, and milk.
Top it off with whipped cream and your favorite toppings.
Happy Holiday's!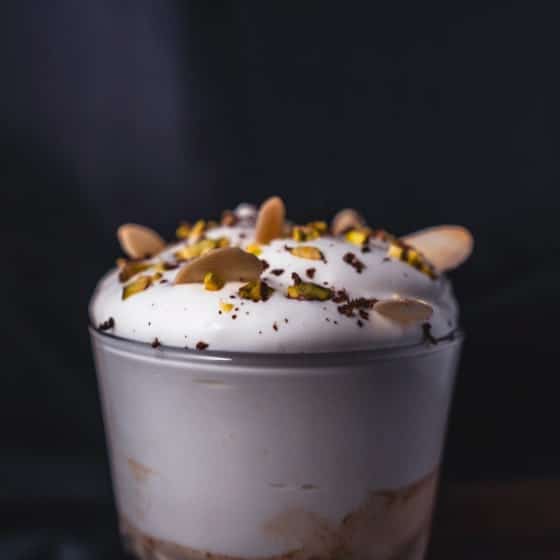 Let's stay in touch
For more delicious cocktail recipes and other cool stuff.