Sleighbell cocktail
.
A bright and cheery Christmas cocktail.
The Sleighbell is a bright and cheery cocktail that embraces the Christmas spirit. The floral, smooth, warm and bright notes of this cocktail embody the true spirit of the Holidays. This magical and festive cocktail is the best to celebrate your Christmas season.

How to enjoy & pair with
The Sleighbell is a dessert cocktail to be enjoyed after Christmas dinner. Combine it with your favorite dessert: ice cream, pies or cherry cheesecake, or all three! It's celebration time, after all.
Cheers & Happy Holidays!
Recipe breakdown
2 oz / 60 ml Tequila
3/4 oz / 20 ml Lime juice
3/4 oz / 20 ml Triple Sec
1/2 oz / 15 ml Coconut liqueur or syrup
1/2 oz / 15 ml Maple syrup or agave
1/4 oz / 8 ml Orange liqueur or orange juice concentrate or extract
For garnish
1 oz / 30 ml Syrup
50 gr Coconut flakes
Cocktail preparation
Chill your glass for at least 1 hour in a fridge or 30 minutes in a freezer
Cover a small dish with 1 oz / 30 ml syrup
Evenly spread coconut flakes onto another small dish
Gently rotate the rim of the Martini glass into the syrup
Repeat this with the coconut flakes until the rim is nicely covered
Add all ingredients in a shaker tin with ice. No shaker tin? Use a mason jar, protein shaker or any spill-proof mug
Shake vigorously for 10 seconds
Pour the cocktail (without the ice) into a Martini glass
Enjoy your Sleighbell cocktail!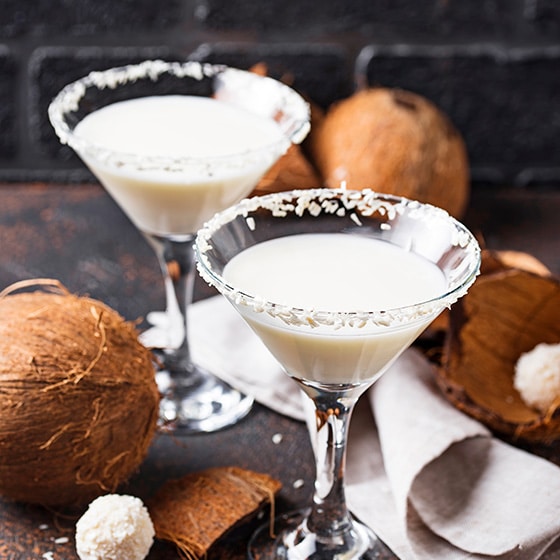 Let's stay in touch
For more delicious cocktail recipes and other cool stuff.