Kranen Kerstpakketten
.
Ho.. Ho.. Ho.. Merry User Experience!

Client
Kranen Kerstpakketten
Type
Webdesign, Video, Photography
Deliverables
Website, Video, Photography
Website
Kranenkerstpakketten.nl
Kranen Kerstpakketten was ready for growth and wanted to take their business to new heights.

Our colleagues at OMCBase created a strategic foundation with their Growth Plan.
This provided us with all the insights needed to design an excellent and well thought-out User Experience that perfectly connects with the business's goals. For this to happen their website needed a grand makeover. New wireframes and brand new designs, yet recognizable for existing customers. A fun job for true pixel-Picasso's like ourselves!
A century old Dutch tradition
Kranen Kerstpakketten is expert in the field of ´kerstpakketten´, which literally translates to 'Christmas gift boxes´. These 'kerstpakketten' are based on a century old Dutch tradition. Right before the holidays, employers surprise their employees with a gift box filled with luxury foods and non-food products. As a token of appreciation for all their efforts and hard work over the past year. Every year right before the holidays, Martijn de Waard and his team put together the most amazing and original gift boxes, completely in style of the customer's organization.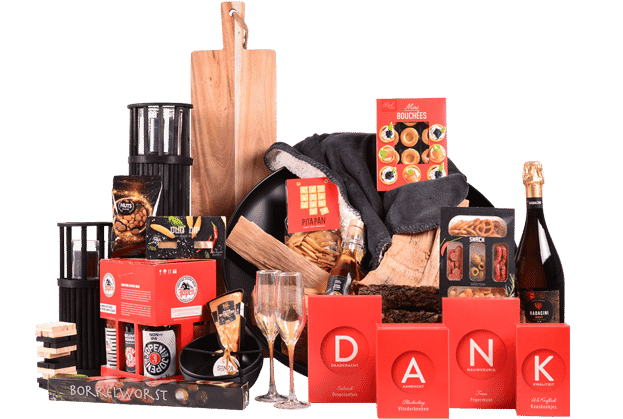 The Christmas spirit
Customers can personalize these gift boxes or choose from one of the existing themes in the webshop. For customized gift boxes, Kranen Kerstpakketten welcomes you at one of their three showrooms. Here you will immediately notice their passion for the job and making people happy. And the thousands of Christmas products at display will instantly put you in the Christmas spirit.
A welcoming journey
The old website was used to show some examples of the Christmas boxes. There was no clear structure, no journey and lacking in personality. For the new website we wanted the visitor the feel as if they were already talking to an actual person. And inspire them from beginning to end. It also needed more emphasis on the showrooms and let people know they are interacting with actual humans rather than an online business. The new wireframes take you on a welcoming journey.
Rearranging the pallet
Regarding colors and fonts, we reused the old look as much as possible to keep the brand recognizable for returning customers. The red against black gives you a luxury feeling, perfect for B2B and the holiday season. By rearranging the colors, they are now not only visually attractive, but also add to the customer journey by leading the user's eye to where we want them.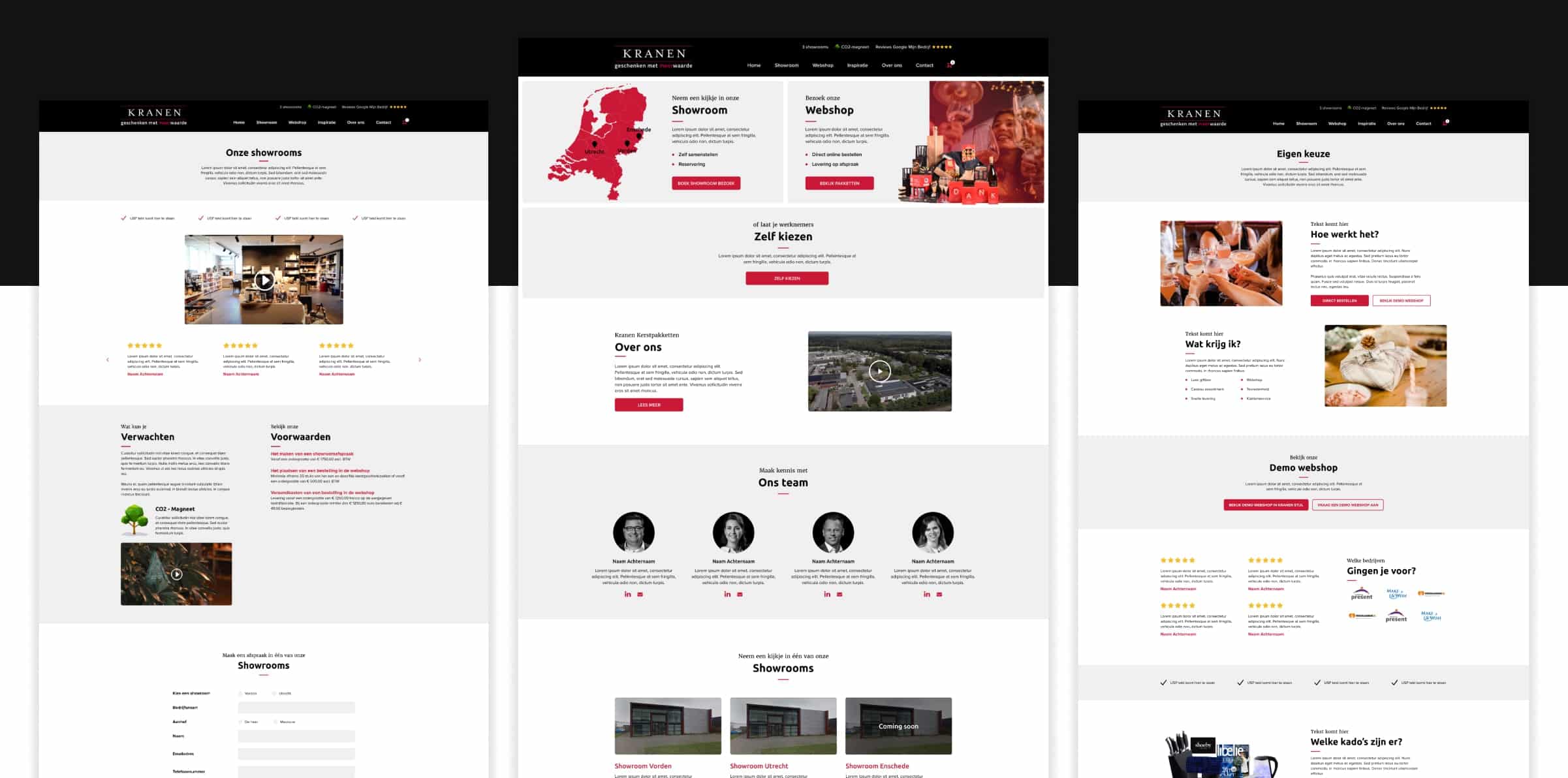 Reduce your carbon footprint
Kranen Kerstpakketten values the environment. They work together with the nonprofit organization Trees for the Future. Allowing their clients to buy a symbolic tree for their employees or relations which will then be planted in their name by farmers across Sub-Saharan Africa to establish Forest Gardens. Throughout the new website you'll find images of the symbolic tree including a short video we made explaining the concept.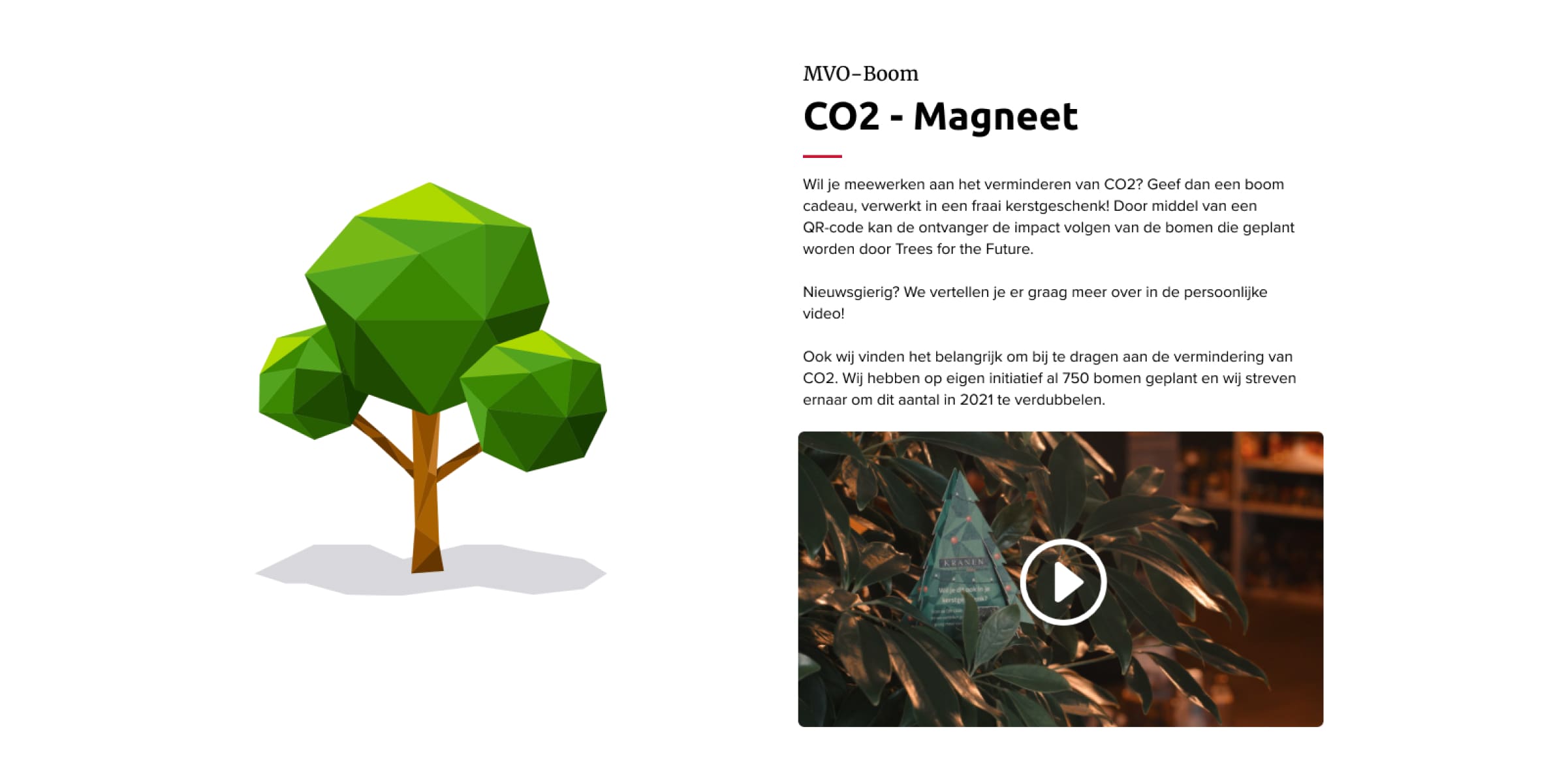 Jingle bells, video sells
Based on the Growth Plan, our colleagues at OMCBase were able to determine which type of videos would perfectly match the end goal. Together with them and the Santa's over at Kranen Kerstpakketten we had a very effective brainstorm session. Through voicing, lighting, setting and storyline we gave the Kranen Kerstpakketten website personality. We created a whole series of short videos which are now scattered throughout the customer journey. For this we applied the golden principle of 'show, don't tell'. Leaving room for curiosity and making the viewer excited for discovering the next video and visiting the showroom.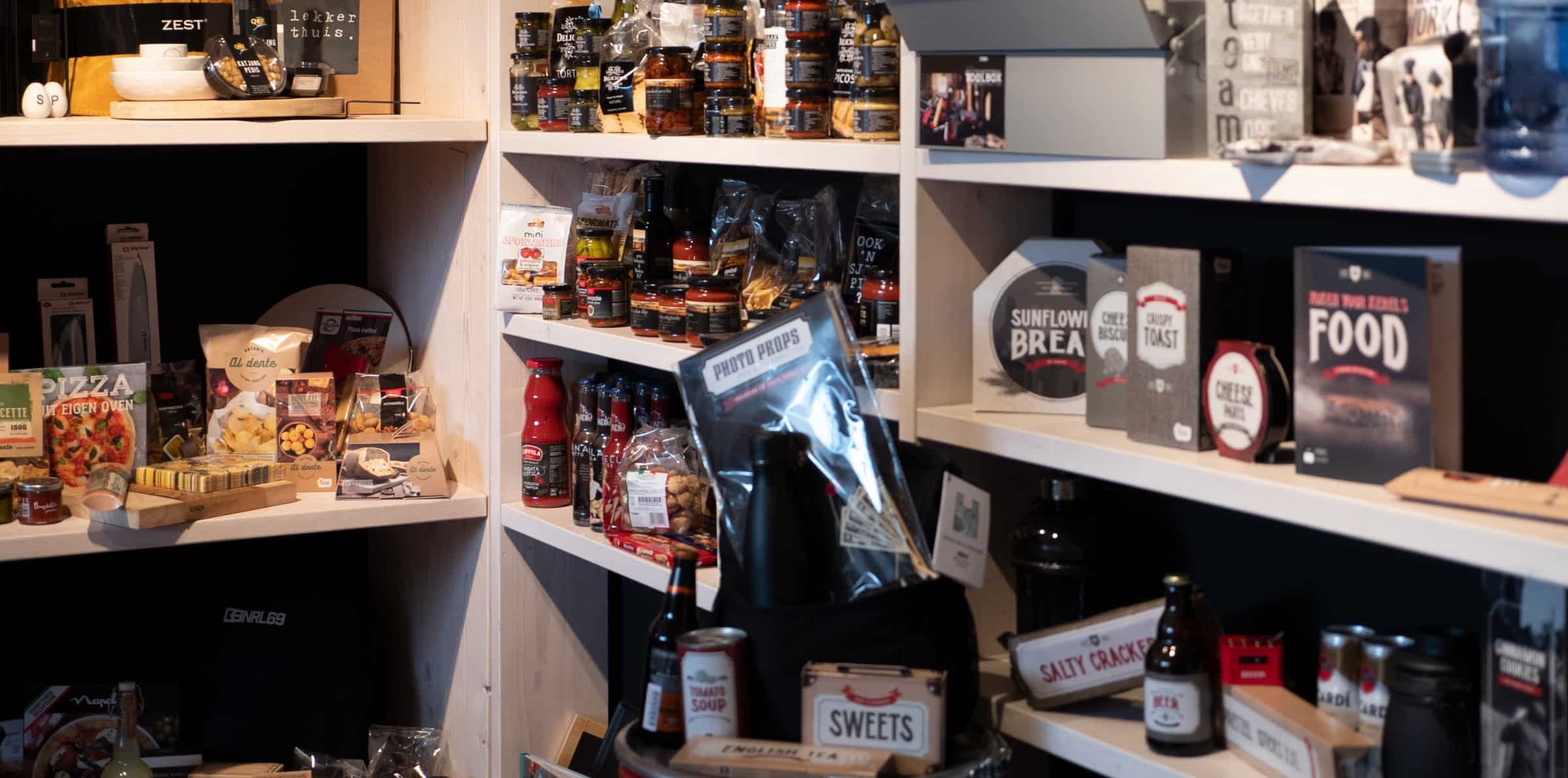 Excited for the future
Kranen Kerstpakketten will enter the 2021 holiday season with a brand new website taking users on a warm and welcoming journey. Do you want to take your business to the next level? We know what your organization needs for a pleasant and memorable User Experience. Let's chat!
Let's have a chat!
About designs, development, your situation, palm trees, birds and bees- you name it, we'll pour the coffee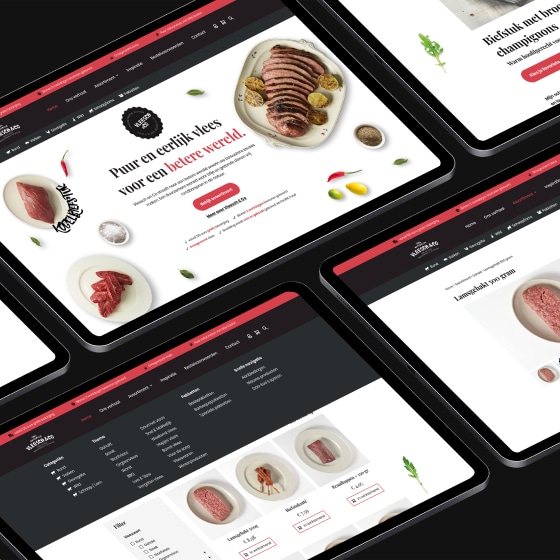 Vleesch & Co. On a mission to a better world with a future-proof webshop.Client Vleesch & CoType WebdesignDeliverables Website, WebshopWebsite Vleeschenco.nl...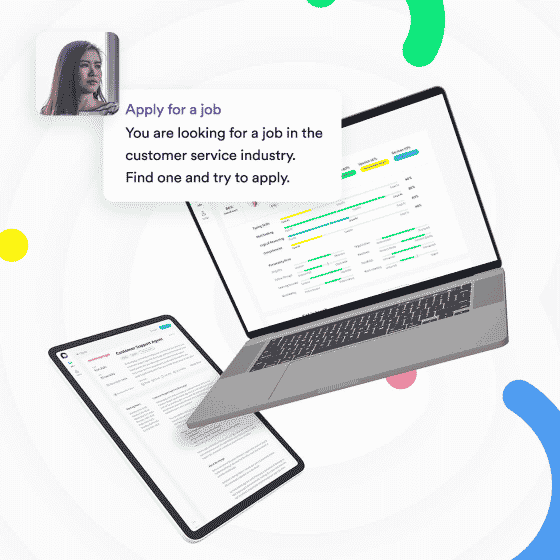 Cocoroco. Testing the waters before taking the plunge.Client CocorocoType User Testing, PrototypingDeliverables User Tests, PrototypesWebsite Cocoroco.com Cocoroco is...